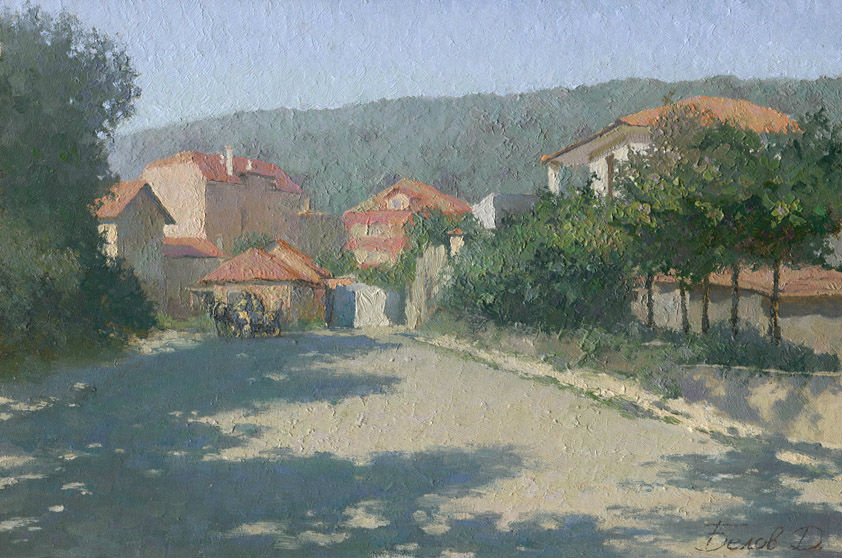 In Bulgaria we stayed in a small coastal town Obzor. Its proximity with the sea favors to its growth as a tourist town: here and there are built multistorey hotels, which overshadow with their size traditional small houses with orange tiled roofs.
In the morning I, after my tutor's Daniil Alexeyevich Timoshenko example, settled to paint in one of the old streets. Exactly in the morning as at this time the long shadows fall from the trees on the street and give an opportunity to work for some time, hiding in them from the sunshine.
The work on the study prolonged. I began to recognize some of the passersby, who walked from day to day during my sessions on their own business. I also became familiar with them: when some of them came closer to watch the work, they shared their impressions, noting that I have been painting here for several days already.
On the third day one nice old man, doddering with the cane and the box of the candies, approached to me and treated me with candy.
On the next day a man, who had already asked how the painting is going, walked to me, stayed nearby and gone up the street. Then he jumped over the fence of one of the gardens, climbed out, came back to me and offered me armful of pears.
Art ID: 6454e2834d334cd
Artist
Member Since: February 16, 2015
Recently I've been interested in the question: how to paint so that the painting would give such strong feelings as the music of Bach or Schnittke? It is the problem I try to solve when I paint my pictures – how to fully express with paints the things that give rise to my emotions. How to express the full variety of these feelings turns out to be what is most difficult. It can be silent contemplative joy, nervous waiting or union of beauty and dramatic effect. That's why beauty and convergence with nature for me are only some of the means of expression and the revelation of the image. Have you noticed how weather influences your mood, how objects hold memories about what they were associated with, how the world around us influences our emotions, senses, feelings? Compare your mood when warm sunbeams wake you up with when the whole sky is clouded over and rain is pattering on the windowsill. In this sense nature is a splendid figurative method. All I have to do is use it right and to combine it with all the other, no less significant expressive methods, that I control, which will help me to convey exactly what I want to share. I want to deal with such paintings, in contact with which a wave of searing pain will rise to the throat or feelings of joy or peace will overflow; that a viewer, seeing my picture, will live through it with me as its author and performer.
Contact Artist
Complete the form below to send a message to this owner.