One Day I'll Fly Away
£90
This artwork has been sold.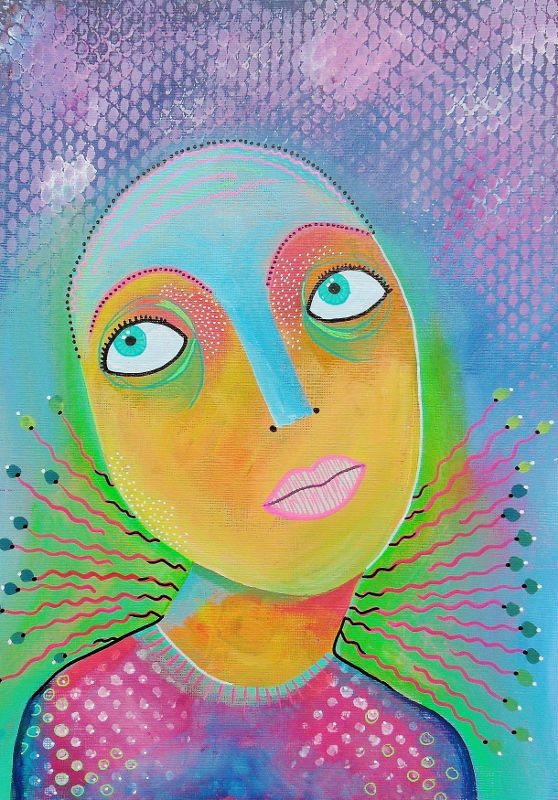 Colourful painting in ariginal acrylic and pens on acid free, canvas textured acrylic paper. This vibrant and unusual piece, measures 8.25 x 11.75 (standard A4) and comes to you UNframed.
Art ID: 138556aa76501b60
Artist
Member Since: March 24, 2015
My paintings are a playful, schizophrenic merging of techniques and ideas and I usually work in mixed media, creating contemporary artwork which has a rough, primitive, naivety. Working intuitively and spontaneously I use collagraph printing techniques, brushes, sticks and other implements, as well as collage, to create my vigorous and slightly surreal artworks. I sell my work via the internet and from my studio and exhibitions etc. I have participated in group shows, solo shows and juried exhibitions, and my work hangs in private collections all over the world, and has been used in several TV and film productions, including Channel 4's Cucumber, the new feature film 'The Ninth Life Of Louis Drax', starring Breaking Bad's Aaron Paul, and Fifty Shades of Grey's Jamie Dornan. Also, a new German TV drama, The Watcher, which is being filmed in Manchester. My work is predominantly figurative. I am infinitely fascinated by faces, bodies, people. Sometimes these people are surreal or they turn into weird monsters or animals.
Contact Artist
Complete the form below to send a message to this owner.