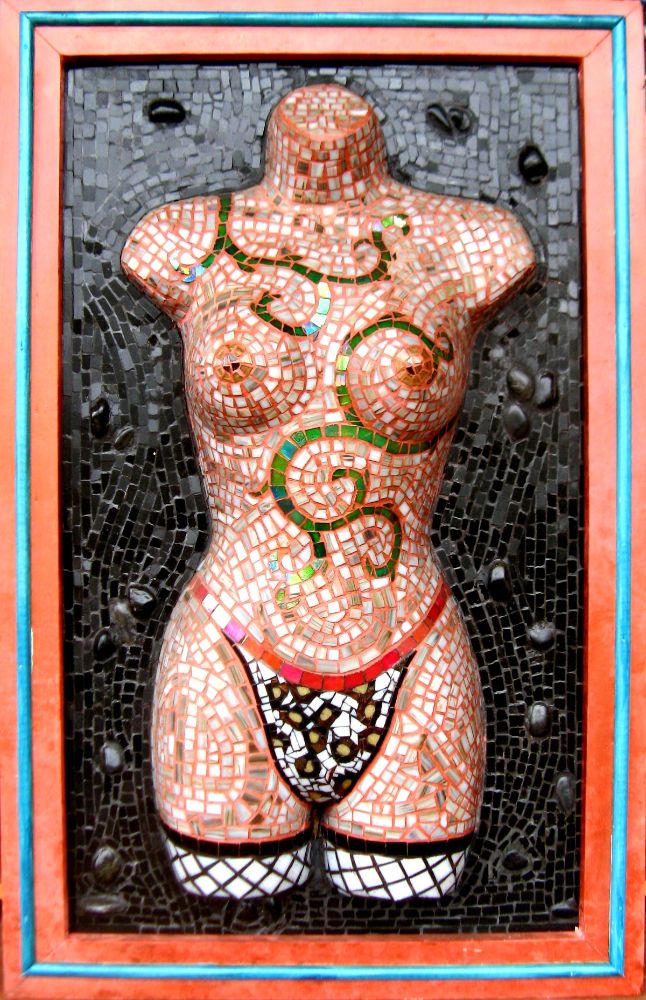 Colourful 3 D Glass and Stone Mosaic.
Guenevere's 3D torso was inspired by the version of King Arthur's story where Guenevere is a Pict Tattoed warrior princess.
Guenevere was realized in 3 dimensions with the direct method. The torso itself is realized of glass tesserae only while her background is made of black granite tesserae and pebbles.
Artist
Member Since: January 5, 2015
I was born in Picardie Maritime, South of the Somme river estuary in the North of France in 1957. William sailed from here to invade England in 1066. Already very young I was interested in Archaeology and enjoyed visiting sites occupied by the men of prehistoric and antique times in my native Picardie and other parts of Western Europe, some of them decorated by wonderful mosaics. There was a long tradition of engineering in my family and I studied Mechanical and Nuclear Engineering. I pursued an international career from 1980 to 2000, working for several organizations and companies, and later on my own. In 2000, I abandoned the corporate world to dedicate myself to Martial Arts and Manual Creation. In 2003 I met in Provence a remarkable Mosaic Artist. Jean Pierre Soalhat's creations were amazing of beauty and classicism and were reminding me of the frescoes I had once admired in Rome. I was hooked and decided to try myself at this media. I came back to the US, purchased a small tile saw and built a new backsplash for my kitchen sink ! Since then, I kept working and improving. I have sold pieces over 4 continents I presently live and create my mosaics in Headland, Alabama with my dogs Itto and Tomoe Mugen Dai, my two useless cats Zoya and Pomponette, and a bunch of Chickens.
Contact Artist
Complete the form below to send a message to this owner.